1) Arrival
anytime after 14:00 (earlier check-in possible upon agreement)
Klíny No. 42, GPS: 50.6337583N, 13.5543598E
parking right at the guesthouse
entrance to the building through a code
room key ready at the reception
registration - Alfréd online or registration card
2) Stay
all areas available to guests
self-service bar in the dining room (on the ground floor)
bike storage, common room, kitchen, sauna
fridge, freezer, microwave, stove, tableware
rooms - TV, WiFi, towels, bathrobes, toiletries
enjoy your stay at Studánka!
3) Departure
check-out by 10:00
leave the room key at the reception
settle your bill at the bar (cash or transfer)
leave a message in the Reception Book :)
safe journey home
and also, you are welcome to return to Studánka :)
Your Arrival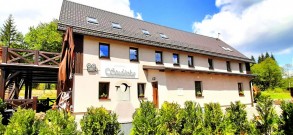 We look forward to your happy arrival at the guesthouse. It is located on the left side of the road when driving from the villages of Klíny, about 800m away from the ski resort.
You usually arrive anytime after 14:00, earlier check-in is possible upon agreement. Everything is prepared for you. Parking is free right by the property.
Entry to the Guesthouse
You can enter the guesthouse using an electronic lock located on the entrance door:
Press any key on the keypad, a beep will sound
Enter the code that we sent you shortly before your arrival and press # to confirm
Wait a moment, the door will open automatically
Your room key along with the registration cards will be ready at the reception. Please fill in the registration form for each person, in case you haven't used the online check-in with our new assistant Alfred. Rooms number 1, 2, 3 are located on the first floor. Rooms 4, 5 and the Apartment can be found on the second floor.
Your Stay with Us
You are now happily here, so let's see what you can use:
Free WiFi, the password is displayed in a frame on the wall by the reception (by the entrance to the staircase)
self-service bar (beer, wine, soft drinks, coffee, tea, snacks) in the dining room
large dining room with access to the terrace and garden
fully equipped guest kitchen for your own cooking
sports equipment storage / bike storage / stroller storage with heated dryers (for shoes, ski boots, jackets, ...)
large common room with a kitchenette, children's corner, seating area, large SmartTV with internet
infrared sauna (unlimited access, up to 2 persons, towels provided, private bathroom)
upper terrace with a great view of the Ore Mountains and a covered lower terrace with seating
grill and campfire area with seating
trampoline, swings, slide, sandpit, solar shower, sunbeds
and of course, beautiful forests and mountains around us, including the ski/sports resort
What does the accommodation look like?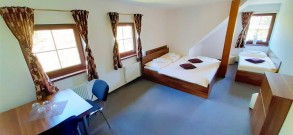 We use indoor shoes in the building. Outdoor shoes can be placed in the prepared shoe rack at the entrance. We have simple white slippers available for you (fee of 50 CZK/pair) and also washable, disinfected slippers (free of charge) in case you forget to bring your own indoor shoes.
We provide you with all the comfort - bed linens, towels, bathrobes, slippers, soap, shampoo, toilet paper, garbage bags.
In the sports equipment storage/bike storage you will find heated dryers for shoes and you can also store your skis, cross-country skis, sleds, snowboards, or alternatively bikes and strollers. After storing your items, please make sure to lock the outdoor door of the storage. Please also leave your ski and cycling footwear here. You can also use the side entrance to the guesthouse marked as sports equipment storage/bike storage.
If your stay is longer and you would like to have your room cleaned or towels exchanged, please leave the sign you have prepared on your door. We respect nature, so please sort your waste into the designated containers (paper, plastic, glass, organic waste), which are located in the dining room behind the door, and use water and energy responsibly.
Where to eat nearby?
If you don't want to cook, you can eat at the nearby Stará škola restaurant (400m on foot), also suitable for breakfast, or at the Emeran restaurant at the sports resort (about 800m). Both with convenient free parking.
Where to do your shopping?
The best place to shop is in Litvínov, a 6-minute drive by car/bus. Right upon arrival in the town, you will find a Tesco supermarket.
Self-Service Bar, Dining Room and Kitchen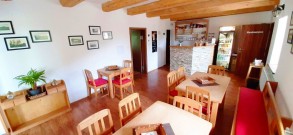 In the guesthouse, you have fully equipped kitchen, dining room, a terrace by the dining room and a self-service bar with drinks and snacks at your disposal on the ground floor.
Dining Room
Space for up to 20 people, TV/SAT, Bar
Kitchen
Kitchen equipment available for cooking for more people
Full sets of cutlery and dishes
2x fridge, freezer
Shelves for storing your groceries
Covered Terrace
Connected space with the dining room, seating for up to 16 people
Self-Service Bar
Drinks are available to you. Our unique self-service bar offers a permanent selection of basic drinks and supplements 24 hours a day / 7 days a week. Tea, coffee, juices, mineral water, flavored water, wine, bottled alcoholic and non-alcoholic beers, and usually in the season or upon request, draft beer and lemonades. You can also choose from snacks such as crisps, pretzels, bars, nuts, as well as cookies, wafers, and croissants.
What does the Dining Room and Bar look like?
How does it work?
Please write down your potential expenses on a note at the bar.
At the end of your stay, leave the required amount at the bar or send it to the account specified at the bar.
No need to worry if you don't have cash. The prices are reasonable
Questions, Tips, Recommendations
Lenka is here for any further questions
(operating, manager of the guesthouse all in one)
Share your Opinion
Write to us what you liked, what needs improvement, what's useful
Your Departure
We don't like saying goodbye, but surely you have wonderful days ahead in other places too.
Please vacate the room by 10:00 in the morning on the day of departure, unless otherwise agreed. Leave the completed registration cards in the room if we are not present at the reception.
Please leave the room key at the reception.
If you used the bar, please also check your settlement. Thank you.
Please settle your accommodation (if not done in advance) at the reception in cash or by card.
We hope you enjoyed your stay with us, come again! And feel free to leave a message in the Reception Book :-)
Have a safe journey home. We look forward to seeing you again!
Studánka Guesthouse Team