Your arrival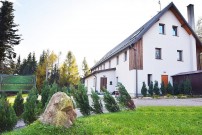 We are looking forward to your happy arrival in the pension. It is located on the left side of the road at the direction Klíny up, about 800m from the ski resort.
Usually you arrive at any time after 2:00 pm; Everything is ready for you. Free parking directly at the object.
Entrance to the pension
To open the guesthouse, use the electronic lock located at the entrance door:
Press the keyboard with your fingers, one beep will sound
Enter the code we sent you just before arrival and confirm with #
Wait a second, the door opens itself.
Your room key and registration cards are available at the reception. Please complete the registration for each person (ONLINE version) Rooms number 1, 2, 3 are located on the first floor. Rooms 4, 5, A (Apartment) are on the second floor.
How does it work by us?
You are already happily with us, so let's see what you can use:
Wi-Fi is free
self-service bar (beer, wine, soft drinks, coffee, tea, snacks)
large dining room with access to the terrace and garden
equipped gastro kitchen available for accommodated guests for self cooking
ski room / bike room / bicycles room with heated dryers (shoes, boots, jackets, ...)
large common room for training, party, playing
infrasauna (unlimited, up to 3 persons, bath towels available, private bathroom)
terrace with amazing views of the Ore Mountains
sitting, deckchairs, grill, fireplace, fireplace
in summer season trampoline, swings, slide, sandpit, solar shower
and of course the amazing forests and mountains around us, or ski / sports area
How does the accommodation look like?

In the pension we use home shoes. The outdoor shoes are placed in the prepared shoe at the entrance. If you forget, we have for you disposable white slippers, whether in the bathroom or for use while staying in the house.
It is ready for you - bed linen, towels, bath towels, slippers, soap, shampoo, toilet paper, cleaning products, plastic waste bags.
In the ski / bike room you will find heated shoe dryers and you can store your skis, cross-country skis, bobsleighs, sledges, snowboards or bikes and prams. After storing things, please make sure that the outside door of the ski room is locked. Please leave your ski and cycling shoes here as well. There is also a side entrance to the guest house, designated as a ski / bike room.
If your stay is longer and you would like to clean the room or change towels, please leave a sign on the door that you have in your room. We protect our nature, we ask you to sort waste into prepared containers (paper, plastic, glass) and to treat water and energy in a reasonable way.
Self-service bar, dining room and kitchen

On the ground floor there is a fully equipped kitchen, a dining room, a terrace by the dining room and a self-service bar with drinks and snacks.
Dining room
Room for up to 20 people, TV, self-service bar
Kitchen
Available kitchen equipment for cooking for more people
Cutlery and crockery sets
Large fridge and freezer
Shelves for storing your food
Self-service bar
Drinks are available for you. Our unique self-service bar offers a permanent menu of basic drinks and accessories 24 hours a day / 7 days a week. Tea, coffee, Italian espresso, juices, mineral water, water, energy drinks, wine, alcoholic non-alcoholic bottled beer, draft beer and limo in season or on request. Also delicacies such as crisps, puffs, sticks, nuts.
Whow does a bar and a dining room look like?
How to do it?
Please write your own expense on the bar ticket.
At the end of your stay, leave us the necessary amount of money in the room or send it to the account indicated at the bar. Before leaving, thank you.
Don't worry if you don't have anything with you. our prices are friendly:
| Drink | Price in CZK |
| --- | --- |
| tea, nesscafé | 15,- |
| italian espresso | 28,- |
| water 0,33l | 15,- |
| mineral water 0,33l | 28,- |
| cola Royal Crown 0,25l | 32,- |
| draft beer Gambrinus 0,5l* | 31,- |
| bottled beer 0,5l | 25,- |
| wine 0,75l | from 159,- |
| and other items (the price list is at the bar) | |
* draft beer is bumped during the summer season. Otherwise to order. In addition to Gambrinus 10 also Excelent 11 (large 33, -) and Pilsner Urquell 12 (large 45, -). We can also provide the entire barrel for the group, including cooling. E.g. Gambrinus 30l for 1500, -

Offer beers to order
Dining options nearby?
If you do not want to cook, you can eat in the adjacent restaurant Stará škola (walk 400m), suitable for breakfast, or at the sports complex in the restaurant Emeran (about 800m). Both also with convenient free parking.
Here is a map of the surroundings
Shopping possibilities nearby?
Best to buy in Litvínov, 6 minutes by car / bus. Tesco supermarket is located on arrival at the town.
Questions, tips, recommendations
Available for further questions is for you
LENKA (operational, pension manager in one person)
tel: 775900744, info@penzionstudanka.cz
Your departure
We do not like to say goodbye, but you will also have nice days elsewhere.
On the day of departure, please leave the room by 10:00 in the morning. Leave completed registration cards in the room if we are not present at the reception.
Please leave the room key at the front desk.
If you used the bar, please check the payment. Thank you.
You will pay the accommodation (if not in advance) at the reception in cash or by card.
Perhaps you liked us, come again! And feel free to leave a message in the Book at the reception :-)
Drive home well, have a good trip. We look forward to seeing you next time!
Team pension Studánka