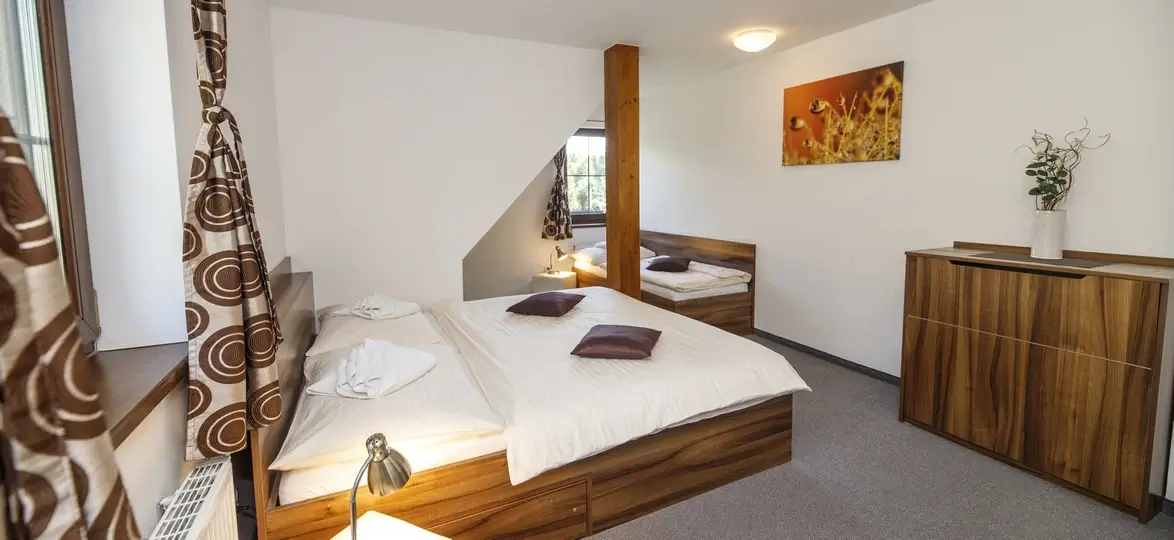 Beautiful accommodation - rooms and apartment
Klíny: Accommodation at the Studánka Guesthouse
The guesthouse offers luxury rooms with a large private bathroom and a hallway with a wardrobe. The rooms and bathrooms have been modernized and completely renovated, as well as the entire property, where you can use a communal room / game room, terrace, infra sauna, bike/ski storage, dining room, kitchen + dining room, and private parking. The nearby Klíny sports resort and restaurants complement your stay with us and your peaceful stay in the Ore Mountains.
Rooms and apartment, accommodation capacity of 25 people
Double room (2L)
Double room with 1 extra bed (2L+1)
Double room with 2 extra beds (2L+2)
Triple room with double bed (2L+1L)
Triple room with 2 extra beds (3L+2)
Apartment with 6 beds and 2 extra beds (6L+2), kitchen, refrigerator
Possibility to use 1 baby cot with a playpen.
The entire property has WiFi, Smart TV/SAT. Private parking at the guesthouse is also available. You can also use the infrared sauna for free. There is also a fully equipped kitchen and dining room available for guests.
Nice rooms and a spacious apartment
Relaxation is ensured by large rooms with hallways and a private bathroom
Enjoy your vacation with a pleasant dining room, bar, draft beer, and refreshments.
WiFi throughout the property, including the rooms
TV+SAT in the rooms, dining room, and communal area
Infrared sauna for up to 3 people for repeated use included
Private parking for up to 9 vehicles and free of charge
Terrace with a view of the Ore Mountains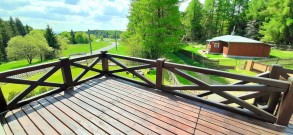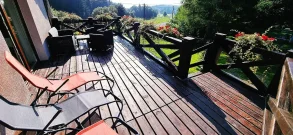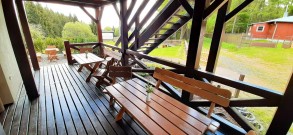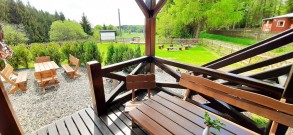 Facilities of the accommodation
A flowing natural spring by the property, fenced garden, benches, seating areas, sun loungers, grill, fireplace, parking, bonfire, solar shower, trampoline, swings, slide, sandbox
free parking, monitored by camera
ski/bike storage with heated dryers (shoes, skis, jackets, ...)
large communal room for training, parties, playing
infrared sauna (up to 3 people, towels available, private bathroom)
large and fully equipped catering kitchen available for guests
terrace with an amazing view of the Ore Mountains
large dining room with access to the terrace, garden, kitchen, and bar
seating areas, sun loungers, grill, fireplace
trampoline, swings, slide, sandbox, solar shower
How you enjoy your stay?
Directly at the Studánka Guesthouse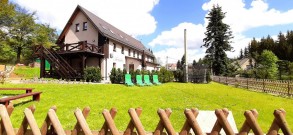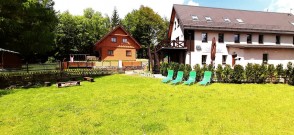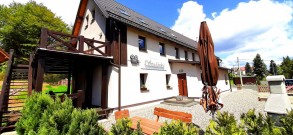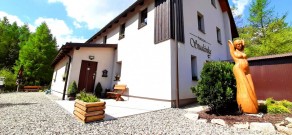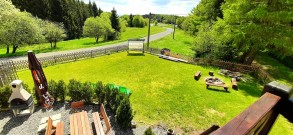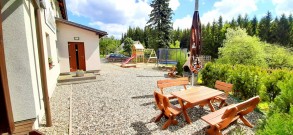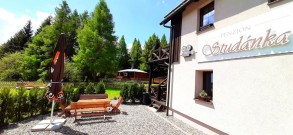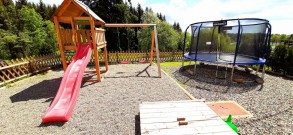 Interested in renting the entire property for yourself?
Accommodation is possible for 4-7 families, groups of up to 25 people, a class, or a group of friends thanks to the rental of the entire property.
Rental of the entire property »
Voucher
Purchase it now with a validity of 365 days.
Communal room, club room, and game room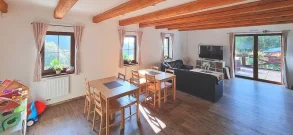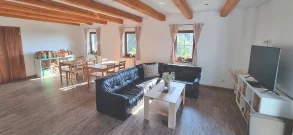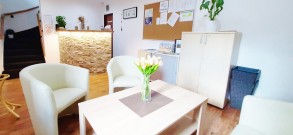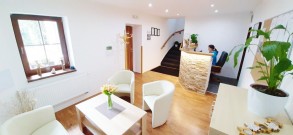 "Amazing accommodation, great and friendly staff. We really enjoyed our stay and we will definitely not be here for the last time." Lukáš J.
"Spacious and clean rooms, common areas, and facilities of the guesthouse, great self-service bar solution, above-standard offer, very helpful staff" Josef L.
"We came again and we did well. This time the weather was more favorable for us and we also used the playground next to the house in addition to the game room. Great feature. We sleep beautifully here. We tried the nearby swimming pool, which is perfect for afternoon refreshment. Thank you very much for the excellent service." J+V+A+Z from Ústí