From our guests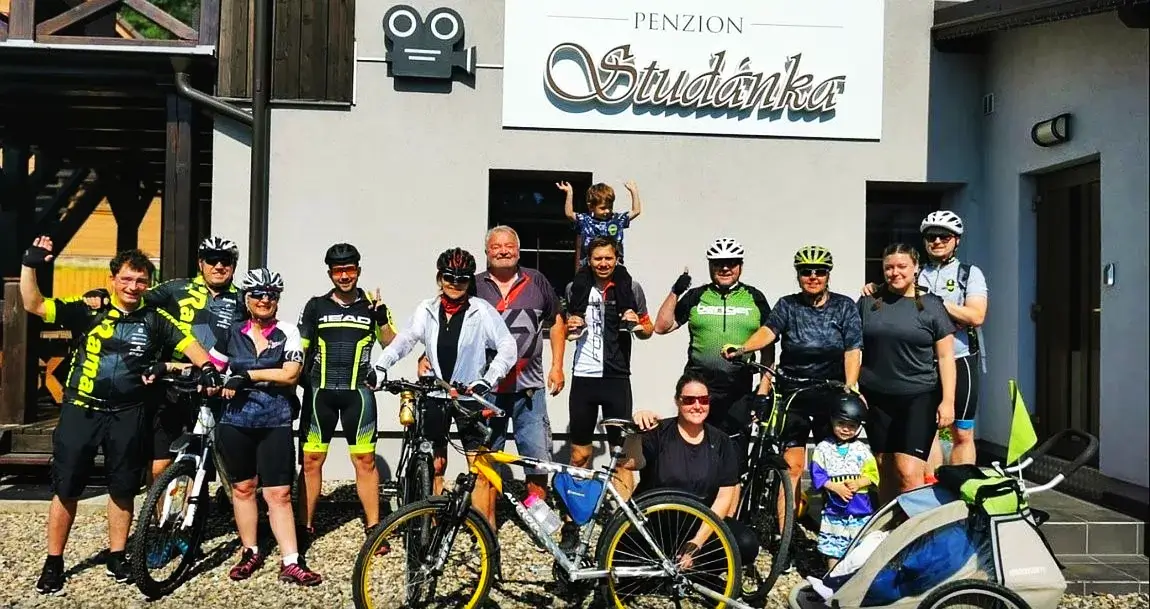 - Joint events, beautiful weddings, great celebrations, family stays, and various gatherings -
Spring 2023
Thank you very much for a pleasant stay. We really enjoyed our time here! The guesthouse is clean and beautiful! The staff is friendly, and Mrs. Lenka is incredibly kind. Thank you again! K.E.V. Grandpa M.
We love coming back here :) The self-service bar is simply the best for kids, and we like everything here. Mrs. Lenka is incredibly nice and helpful. See you again next year. S.
Thank you very much for a lovely stay. We will gladly come back to you. R.
Great guesthouse + friendly people + beautiful nature. Thank you very much. We'll gladly return. F.
Amazing guesthouse, great facilities for children. Many thanks; we definitely haven't been here for the last time. All the best! N+B
Very beautiful environment, cozy and airy. We enjoyed the common areas, veranda, grill, swings. Thank you very much and all the best. N
Thank you for a pleasant stay at your cozy guesthouse, lovely warm welcome. We will gladly come back to you. Wishing you many satisfied guests. R.
Guest Book






Kanoists from Brno
The Czech endurance Cup took place on Lake Matylda on 22nd and 23rd April 2023. Young canoeists from Brno also participated in the race, and our Studánka provided them shelter during their rest period. They had access to our large kitchen with an adjoining dining room for cooking, a social room with an infrared sauna for regeneration, and cozy rooms for a restful sleep. It was a great honor for us to provide facilities for these very kind, young racers and their coaches. Thank you, and below are their reviews... :)
"I would like to thank you very much for accommodating our group, the client-oriented approach, great communication, and patience in dealing with Mr. P's communication. I was here at your place about 3-4 years ago, and I was just as enthusiastic about the accommodation as everyone who has been here with you. I'm sure we will contact you again on another occasion :) Thanks again and have a nice day, Martina M."
Winter 2022/23
Very nice guesthouse, very nice accommodation, and other facilities. We really enjoyed being with you. Pleasant hostess. We wish many more satisfied guests in the future. Thank you.

Jakub (on Google)

We felt very comfortable. Very nice owner. Everything clean and well maintained. Sabrina (Germany)

Everything was perfect. Spacious common areas, beautiful surroundings right on the ski slope, trust, friendly staff... Ideal for families with children, couples, or individuals. Perfect. Michaela
Everything we wanted was available, and we had a beautiful stay with good assistance. Our children especially liked the large playroom with all the toys to play with. Elies (Netherlands)

Thank you very much for a pleasant stay. Clean and nicely equipped guesthouse. We will gladly return (in August) :)- P.K.H.E.
Thank you for an excellent stay. Everything was in perfect order. We'll be happy to come back. P.
Thank you very much for a pleasant stay, beautiful guesthouse. We'll come back sometime. S.
We really enjoyed it here. K.
It was beautiful here! A.
Thank you for everything, beautiful nature, beautiful guesthouse, above-average service. Just a relaxed weekend. We'll definitely be back. Š.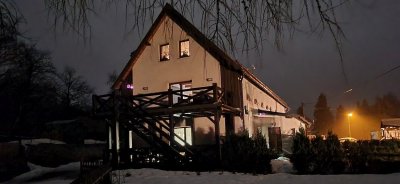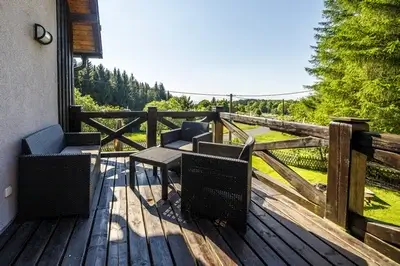 Fall 2022
Thank you very much for your hospitality. We really enjoyed our stay, and we'll be back soon. Nick & Davina (guest book in English: Thank you so much for your hospitality. We really loved our stay and will be back soon.)
Another great weekend stay with exercises! Thank you, Cvičenky, Brandýs n.L. & Kladno
Very pleasant accommodation in a great guesthouse where we didn't miss anything. Well-equipped kitchen and children's corner that the kids really appreciated. The self-service bar with the option of draft beer at popular prices and the possibility of using the sauna for free were very pleasant bonuses for us, which we gladly used. We really liked it here, and I can only recommend staying here.
Spring/Summer 2022 - from our guest book and Booking.com reviews
Janča and Tom really enjoyed it here, and we'll come again. We give 8 stars out of 5. Tom
Thank you for the lovely welcome, absolutely divine accommodation, clean, modern, and especially for providing a travel crib with a mattress. The kids were excited about the many beautiful toys. We will definitely recommend it further! We are enthusiastic! K.
Roman, Petra... thank you for beautiful accommodation and the opportunity to experience a wonderful weekend. We will definitely be back! H.
Thank you for a relaxed and pleasant care from the helpful staff. Modern guesthouse, excellent facilities inside and outside. Highly satisfied. J+R
Thank you for a nice service and a nice environment. We enjoyed our stay. B
It was very nice here; we will definitely come again. B.+T+J+E+J+Z+I.
Thank you for everything, beautiful nature, beautiful guesthouse, above-average services. Just a relaxing weekend. We will definitely come back. Ž+A+M+F

Very beautiful guesthouse... nice outdoor terrace, children's playground, grill, and fireplace. Inside, a self-service bar, well-equipped kitchen, spacious social room with a children's corner and an infrared sauna. We were very satisfied with our stay, thanks to the kind hostess. Z.M.

We have nothing to complain about; we will gladly come back. Z.
Beautifully furnished guesthouse with a friendly and helpful staff. Excellent accommodation for families with young children. The social room is equipped with many toys, and there is a playground and a lawn visible from the veranda. The guesthouse is right next to the forest, which is accessible with a stroller. There is a well-equipped kitchen and a bar with the option of pouring beer and Kofola or making coffee from a coffee maker. Everything is clean and functional. P
Location and guesthouse equipment were perfect, cleanliness, and trust in the honesty of people.
Thank you for a very nice, clean, and cozy accommodation, also for the always helpful and kind "staff." Girls, you are skilled, and always with a smile on your face! We are pleased that the spring hasn't dried out, even though it looked like that for a moment. T+H
Thank you for an amazing stay, which we thoroughly enjoyed. Everything is great here, and we will be happy to return. J.
Thank you, it was great here. We'll praise you wherever we go! :)
Thank you for excellent accommodation and services provided. We haven't encountered this type of accommodation yet, and we are glad that it works perfectly in today's world. Hats off. May you continue to thrive! M+R+L
Thank you very much for a beautiful and comfortable accommodation. We felt at home here. It's very nice here, and we will gladly return with the rest of the family. L+K+M+L+K
It's beautiful here; thank you very much! S+G

Beautiful, clean accommodation. Self-service bar, well-equipped kitchen, and social room. Plus, there's an outdoor and indoor children's corner. Very kind hostess. We will definitely come back.

Thank you very much. Great accommodation and services! All the best! D+J+12 guys from Příbram
Thank you very much for a beautiful and cozy accommodation. We felt at home here. Amazing equipment, environment, everything is top-notch. We will gladly come back here. L+T+K+M+V ...
Thank you for excellent service and kind treatment! If only every guesthouse was equipped so well. Above standard! Many thanks. P+T+P+J
We really liked it here, everything is clean, pleasant, and well-prepared - you can see that you enjoy doing this! So thank you for that, and we wish you all the best and will be happy to return sometime! H+T
We were very satisfied. Perfect accommodation and beautiful surroundings. We hope to come back sometime and repeat everything! J+P
Thank you for accommodating my birthday and subsequently our wedding in your cozy guesthouse. Studánka received great praise from everyone present. H
Thank you again for a lovely stay in a clean and cozy guesthouse. We are here for the third time. Heaven for kids! I have to praise the helpfulness of Mrs. Lenka. We will definitely come back. Family H., children M+M
Guest Book